Our hunting lodge is COVID Clean Approved
We might be on a remote property in the central North Island of New Zealand, but that doesn't mean we've dodged a bullet when it comes to COVID-19.
We're familiar with the latest COVID-19 hygiene best practices. We have implemented these here at the lodge and we make sure we're always up to date with the latest recommendations. We're doing all that we can to minimise any risk to our guests, our staff and our community.

What is the COVID Clean Approved Self Assessment?
The COVID Clean Approved Self Assessment has been implemented by Qualmark, the New Zealand tourism industry's official quality assurance organisation, to ensure that Qualmark license holders are abiding by Government COVID-19 health and safety guidelines.
Through the self-assessment process, we've reviewed and updated processes relating to our operations, customer interaction and staff wellbeing to meet the highest of standards.

We want you to be protected and enjoy peace of mind when you stay here at Alpine Hunting, so we've introduced additional health and hygiene measures for our lodge accommodation to align with New Zealand Government guidelines.

Our certification as COVID Clean Approved means that we've successfully completed Qualmark's Covid Clean Approved Self Assessment.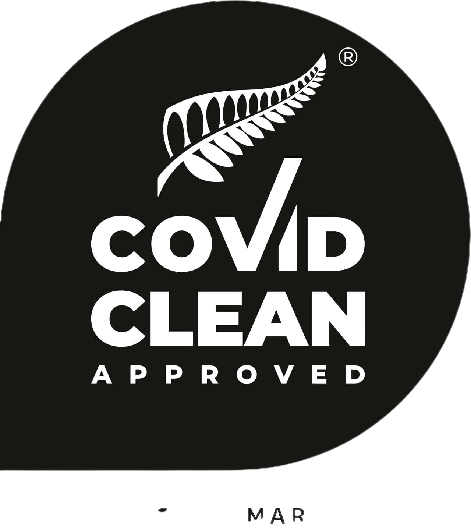 If you have any further questions about our health and hygiene policies and practices, please ask. We are more than happy to share.


Our COVID Clean Promise
Keeping you safe is our priority, so we've made some changes to the way we operate.

Before you arrive…
We hold regular staff briefings to keep our whole team updated with the latest advice from the NZ Ministry of Health.
ALL of our team are fully vaccinated.
You'll be required to complete a medical information form.
Please let us know if you have any specific preferences that will help you feel safe.


During your stay…
You'll notice regular, thorough cleaning and disinfection of communal areas before and after every meal.
Physical distancing will be facilitated between different groups of guests if requested.
There will be hand sanitiser available in every bathroom.
If any member of our team is unwell, they will be asked to stay at home.
Our team practices the hygiene measures recommended by the NZ Ministry of Health through their COVID-19-safe guidelines.

Our Cancellation Policy
We recommend acquiring hunt insurance in case you need to cancel.
If you cancel your hunt before November 1 on the year before you hunt, your deposit will be 100% credited toward a future hunt of the same contracted value.
If you cancel after November 1 an immediate 50% loss of deposit will occur. The remaining 50% may be credited toward the same contracted hunt the following year in dates allocated by Alpine Hunting. 
Cancellation within 90 days of the hunt will incur a total loss of deposit.